Troubled by the discontent surrounding the 2016 presidential election, an artist sits outside the polls in a fictional New Hampshire small town and draws portraits of voters as they comment on contemporary life in rural America and the state of our democracy.
Combining humor, pathos, and cultural critique, this illustrated book paints a picture of the social tensions in America during Donald Trump and Hillary Clinton's 2016 presidential campaigns: a tipping point in US political history.
In the spirit of democracy and experimental writing, Local Control features contributions from thirty artists, writers, musicians, dancers, actors, filmmakers, and business professionals—all accomplished through social media.
Scroll down to read the introduction and see sample illustrations.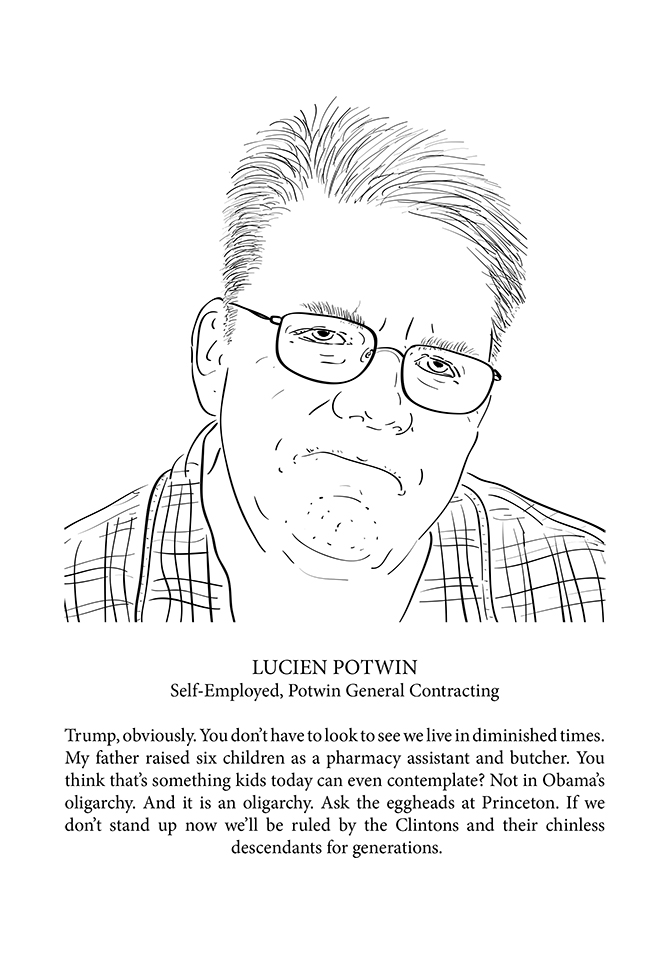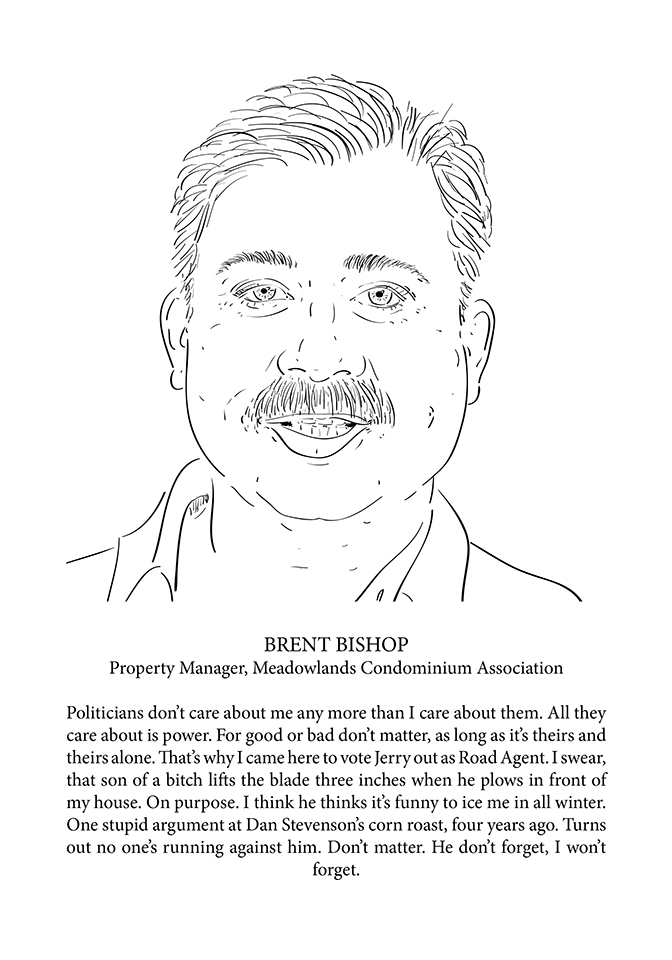 The alarm was set for 4 a.m., but it never had a chance. I rose long before, anticipating the day's potential. Insomniac thoughts are neither fruitful nor trustworthy, but they are urgent. Like many, I was losing sleep from the stress of this year's presidential election.
I brewed a full pot of coffee, double my usual amount, and set about getting ready. I'd laid out my materials the night before: a drawing board, a ream of recycled copy paper, my favorite pencils and pens. I had two faded beach chairs and plenty of memory available for the voice recorder on my phone.
It was Tuesday, November 8, 2016. Election Day.
*
This election cycle felt different from the others in my lifetime. Society felt different, too. Some indicators suggested our country was humming along: the stock market had recovered from the Great Recession, unemployment hovered around 5%, President Obama's approval ratings were over 50%. Yet sadness and worry were ever-present: all too frequent mass shootings at home and abroad perpetrated by actors of domestic and foreign origins; video after video documenting the police using unnecessary, brutal, and even lethal force against people of color; wars without end in the Middle East; humanitarian crises of international scale arising from displaced refugees; an American economic recovery that failed to include the middle class, and no mention of our lower class unless to demonize them as lazy sponges; offshoring shuttering small towns; a heroin epidemic riding on the coattails of a prescription drug epidemic; LGBTQ prejudice made law through state governments; Brexit; reactionary, right-wing nationalist agendas gaining popularity throughout western democracies.
Democratic favorite Hillary Clinton captured the nomination after a surprisingly successful challenge from relative-unknown Bernie Sanders, Vermont Senator and purveyor of "Scandinavian Democratic Socialist" ideals. Republican Donald Trump bested a field of fifteen establishment candidates by ditching conventional campaign decorum for an outrageous reality-TV model, and in doing so, collected the greatest number of primary votes in Republican history. Along the way, Clinton and Trump garnered the highest unfavorability ratings on record, with 60% of Americans disapproving of them both.
I'd never witnessed a presidential race like it. There were controversies, both real and imagined, at every turn. By the end of summer, the bar was so low it lay on the ground. Yet the candidates, the media, and the masses still found ways to sink lower. Outrage quashed sense. Lies reverberated louder than truth. And words, so many words. The best words. Billions, trillions of them painting over our collective experience as tweets, retweets, blog posts, Facebook posts. User-preference algorithms served us personalized echo-chamber content pools, links to links, listicles, native advertisements, clickbait lie-memes formatted for forwarding for profit, 'pants-on-fire' fact-checking, media bias articles, vapid punditry, polls, polls aggregating polls. And beneath it all, the comments sections online. The comments sections alone were enough for me to lose faith in humanity.
For a news junkie, I was spun out and there was no where to hide.
*
So figuring I couldn't change the world, I decided to change myself…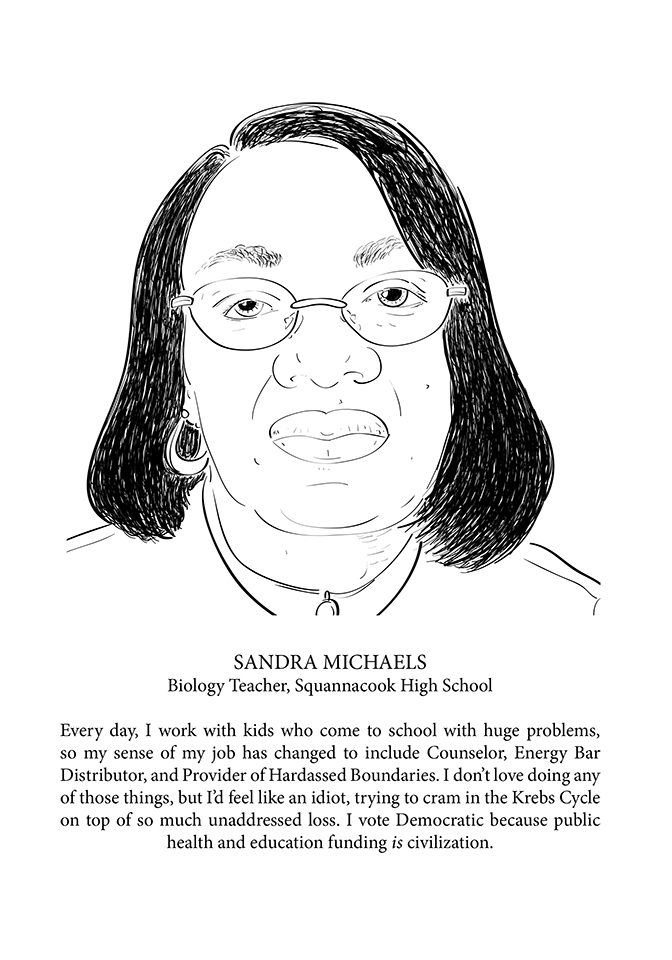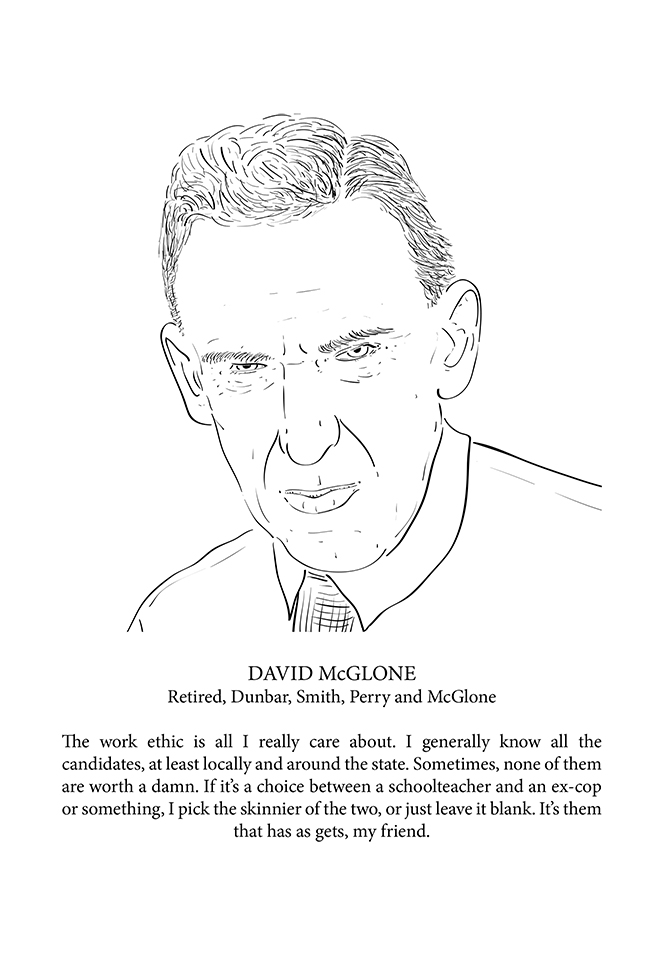 Contributing voices of Northfield, NH
Many thanks go out to the talented contributors listed above. Learn more about each person though the links to their websites, when available.